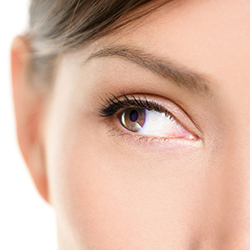 As we age, life takes its toll on our facial appearance – nowhere is this more true than in the eye region. Droopy eyelids and excess, or sagging skin around the eyes not only make you look tired all the time, it can make you look older than you really are.
No doubt this can have a profound impact on your self-esteem and others' perception about you. Are you sick? Are you getting a good night's sleep?
And besides the aesthetic effects, droopy eyelids can cause impairment of your vision, which can undoubtedly lead to difficulty with a range of tasks and pose danger in certain circumstances.
Eyelid surgery, officially known as a 'blepharoplasty,' helps men and women with healthy facial tissue & muscles permanently address excess or sagging skin around the eyes.
Eyelid surgery at Gainesville's Accent Plastic Surgery & Aesthetics provides effective solutions for removing 'bags' underneath eyes that make you look tired. Besides dealing with droopy eyelids, a blepharoplasty can help improve lines and wrinkles around the eye. A blepharoplasty can also be done (…and often is) in conjunction with other procedures in this region – namely facelifts, browlifts and non-surgical skin resurfacing procedures like a chemical peel.
To learn more about eyelid surgery and how it can help you address concerns with your appearance and eyesight, continue reading below.
And if you're ready to take the next step toward accomplishing your goals of younger look and feel, make an appointment with Dr. Daniel J. Hall, Gainesville eyelid surgeon at Accent Plastic Surgery & Aesthetics.
Learn More about Eyelid Surgery (Coming Soon)
Preparing for Eyelid Surgery
Blepharoplasty Procedure/What to Expect
Recovering from and Enjoying the Benefits of Eyelid Surgery
Anesthesia
Before & After Photos
Costs & Payment Options
Visit our Learning Center for more!